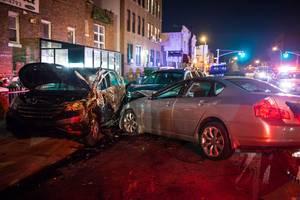 The moments right after a car accident can be confusing and frightening. Many people need several minutes to process what has just happened before they are able to begin reacting. When a secondary car crash happens just after the first, the situation can become even more complicated and difficult to manage. This type of situation may seem unlikely, or that it would require an extraordinary stroke of bad luck, but this is not the case at all. Secondary car accidents are probably more common than you might think, and are often a direct result of the first accident. If you have been hurt in a motor vehicle collision involving multiple vehicles, it is best to speak to an attorney as soon as you are able.
How Do Secondary Car Accidents Happen?
Secondary car accidents most commonly happen when another driver strikes an already crashed vehicle that remained in or near the roadway, although anyone outside a vehicle may also be at particular risk. Common reasons these secondary wrecks take place include:
Poor visibility - Especially when the initial crash happened because of fog, snow, heavy rain, or other conditions affecting visibility, there is a risk of a second collision. Drivers approaching the accident scene may not be able to see that there are damaged vehicles stopped up ahead until it is too late. Additionally, the lights or emergency flashers may not work after a crash, making accident vehicles hard to spot.

...