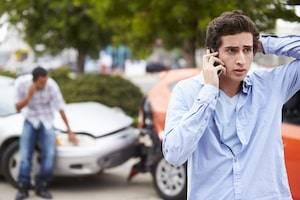 Being the victim of any type of car accident is stressful. However, when your accident is caused by an uninsured driver, the situation becomes even more complicated. If you or a loved one were in a car accident involving an uninsured motorist, you may be unsure of what to do next. You are likely concerned about how you will pay for vehicle repair costs, medical fees, and other costs incurred by the accident, and whether or not you are fully responsible for the costs. With the help of a reputable accident attorney, you will be informed of your options as an Illinois driver.
Car Accident Liability in Illinois
Typically, the insurer of the driver who is at fault for a car accident is responsible for paying the damages resulting from the accident. Car insurance is mandatory in Illinois, however, some people choose to drive without auto insurance and in violation of the law. Others forget to renew their policy or fall behind on payments and lose coverage. If an uninsured or underinsured driver causes an accident, the people who sustained injuries and vehicle damage may assume that they are on the hook for the accident costs. However, there are options available to car accident victims that they may be unaware of.
Options for Pursuing Reimbursement for Accident-Related Costs
One option you have after an uninsured driver accident is to sue the at-fault driver. However, if the driver does not have car insurance, it is unlikely that he or she has the funds to pay a personal injury claim settlement or award. Another option is to file a third-party claim with your own insurer under the uninsured motorist policy. Illinois auto insurance policies automatically include uninsured/underinsured (UM) motorist coverage. Unless you have specifically opted out of UM coverage, your policy should cover injuries resulting from an uninsured driver accident. Unfortunately, compensation from the insurance company may not be enough to cover the full extent of your past, present, and future damages. This is especially true if you sustained severe injuries that require considerable medical care and time off work. Furthermore, liability coverage may not include compensation for vehicle repair and replacement costs.
...